SPACE!
Earlier this year there was yet another space age piano designed and produced, which has now seemingly slinked away into the background. The Hungarian pianist Gergely Bogányi designed this weird looking instrument and named it after himself (obviously…) and the tag line was "Sound Beyond Time" which nobody knows the meaning of (quite possibly not even Bogányi himself). Unlike a lot of the other bizarre digital 'pianos' appearing in the news this year, this piano is actually a physical object rather than a substance (effectively star metadata) being carried forward into something that can translate the data into a sound. An article released a few months ago very aptly described the piano as something that 'looks like a swooshy reinterpretation of the piano form, a bit like a Steinway reimagined by Umberto Boccioni'.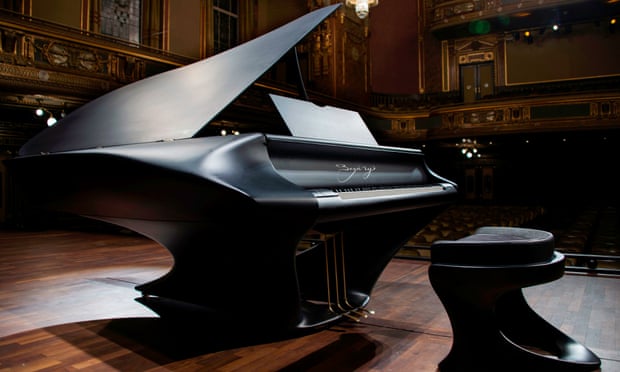 Bogányi claimed that "form follows function in his piano, with even such details as the piano's legs being sculpted better to project sound into the auditorium." Bogányi's dream was apparently to create an instrument that would be more "human" than the conventional Stein-endorfer-iolis that dominate (and have taken over in literally all sense of the word other than world domination) the world's concert halls. There was a lot of carbon fibre in the Bogányi's fantastical piano construction; the instrument's soundboard – the very heart and soul of any piano's sound – is made from this space-age material instead of metal or wood, and the result, he says, is "a sound that's more organic than the normal concert grands, but which is more powerful, too."
Do you REALLY want a space piano?
As I have said every time a new weird piano pops up in the news, they are all very lovely and I'm sure something that looks as though it has come from Mars would look great in your front room, but for practicality's sake, go for a bog standard digital piano. Okay, it might not prompt your guests to ask you 'What on earth is that?!', and it possibly won't have the same level of interestingness as a conversation starter, but I can assure you, it will make more or less the same sounds and it pretty much does the same thing. To be honest, it probably does more. The features are going to be more useful to the average person than translating star data. There are certain models out there (on Earth, not in space) that have more features than you could shake a stick at, and still at process that aren't going to break the bank. Have a look at the Chase P40, the Chase P55, and the Chase CDP 245 and you will see what I mean!!