Syria's Piano Man Performs To Thousands In Munich
The Syrian Piano Man has warmed hearts all over the world and become something of a Youtube sensation. He has continuously been in piano news, and this week is no exception.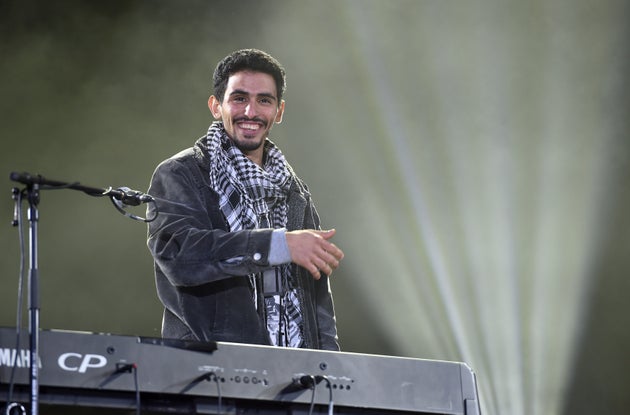 Dubbed 'The Piano Man', Ayham Ahmad has been seen playing his piano in amongst the rubble of where he used to live in Syria after the area was devastated and also at a transit stop while he was travelling across Europe by foot. Last week The Piano Man performed his songs on an electric piano in front of a huge crowd, consisting of thousands of people in the fantastic Konigsplatz arena in Munich, Germany, which is shrouded in history.
The Piano Man at the Danke-Konzert
The Konigsplatz arena was the venue for a concert put together to welcome refugees and thank the volunteers who were involved in the refugee effort. There were a handful of German artists (including the ever popular German indie rock band Sportfreunde Stiller) performing and the concert was named the Danke-Konzert, or 'Thank You Concert'.
On the Konigsplatz stage, Ahmad sang "Here Among The Nations Calling," a song he used to play with children in Yarmouk before he started his journey across Europe.
The Piano Man Speaks about his Music
"The lyrics are about Yarmouk, and Syria in general," Ahmad told The WorldPost in Arabic via Facebook. "Syria, here among the nations calling, the camp is our home. The words are a call to the world for Syria, that Syria needs help. No one is helping Syria. Everyone is just making war in Syria."
"It felt great to be in front of [an audience of] 3,000 people and I felt that I was representing peace for my country — Syria and Palestine," he wrote.
The story of Ayham Ahmad the piano man is absolutely incredible and if you haven't heard about him previously, he is definitely worth looking up! The Piano Man has now taken to a digital piano which is of course, very portable and he can take it with him wherever he goes. Thanks to massive advancements in electronic piano technology, most electric pianos are in fact very portable. If you are interested in buying one, head over to Chase Direct to have a look at the wide range of portable digital pianos on offer at unbeatable prices!