At the end of last month the Unification Piano (known to many simply as the Barbed Wire Piano) was unveiled in South Korea. The piano was commissioned by South Korea's Ministry of Unification and Cheil Worldwide marketing as both a symbol of the division between North and South Korea (which has now been in place for over 70 years), and also as a symbol of Korea's liberation from Japanese rule.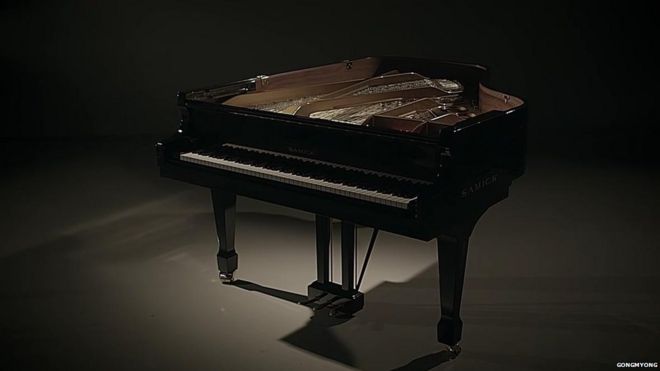 Where the Unification Piano came from
The idea for this piano was conceived last year when the Pope visited Korea. He was presented with a crown of thorns which was also made out of Korean barbed wire. The idea of using the barbed wire in the piano supposedly represents peace, rather than war and destruction.
On the outside the Unification Piano could easily be mistaken for any other grand piano, or even a digital grand piano. On the inside, however, the strings of the piano are made from barbed wire that was collected over a period of several months. It was collected from the demilitarised zone running across the Korean Peninsula in order to create this intriguing instrument, and the wire works in the piano to create a truly unique and unmistakable sound. When the keys are pressed, a sound more reminiscent of percussion than that of a piano is heard. Playing this iconic instrument must be an incredibly surreal experience – pressing the keys of what appears to be a grand piano and percussion sounding is certainly an interesting concept. In this day and age, however, people are used to having percussion sounds on their digital pianos and digital keyboards, so perhaps the resulting sound is not as surprising now as it would have been a hundred years ago.
The Unification Piano will first be performed on the 15th August as part of the Liberation Day celebrations.
Percussive sounds at home to rival the Unification Piano
Although not quite as symbolically significant as the Unification Piano, you too can create percussive sounds on your piano with a whole range of digital pianos. A range of top of the line electronic pianos come, complete with percussive voices, for example the Chase P-40, and the Chase P-65. These electric pianos also come with recording features so you can record percussion and then use the playback feature to accompany yourself.
https://www.youtube.com/watch?v=iKGF32zH5rE
Alexandra Rivers