Charles Aznavour is celebrating his 91st birthday and though he may be best known for the song 'She' it is 'he' who is the focus on this day. 'She' was the slow-tempo pop ballad led by a soothing digital piano lilt and yearning vocal pull that had the world at its feet in 1974.  The 'Frank Sinatra of France' has been performing since he was knee-high to a grasshopper and even last year he was busy with a punishing tour programme. His audience in equal measure of she's and he's adore him and although it is some 41 years since the Mona Lisa mystery hit the charts – Charles Aznavour still delivers this legendary track as the top number is his stage repertoire. Written in five European languages and still singing today in English, French, Spanish or Italian; it is the language of love that Charles Aznavour can recite by heart.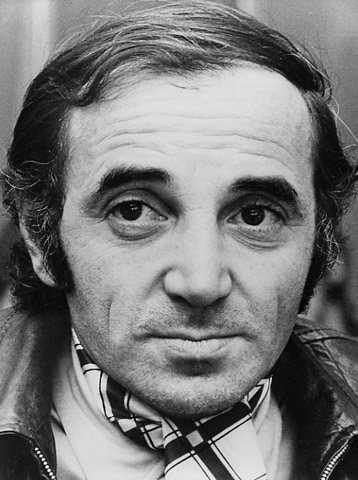 Charles Aznavour
– Loved In Any Language
The 'She' theme tune featured on the TV play 'The Seven Faces of Woman' in 1974 and featured seven different woman who were unrelated in any way, shape or form. The backing track sung by Charles Aznavour added further dignity and an edge of enigma to the popular series.
The theme tune is introduced by a gentle digital piano passage and swirling strings. Charles Aznavour opens his story of adoration with the single word of the title:
Verse 1:   Db                                                 E                                                     Eb
                ''She may be the face I can't forget, A trace of pleasure or regret'' etc
Behind Every Successful Man
'She' continues on the same demonstrative path with digital piano leading the way as Charles Aznavour continued with full-on charisma. The key to his success at 91 is poignantly stated in the final verse:
    Db                                         E                                                              Ebm
''She may be the reason I survive, the why and wherefore I'm alive'' etc
It's the same in any language – behind every successful man there's a woman. Here's to all the She's.
Janet Redwood