The Ting Tings are a UK new wave band that hails from North Manchester. They are made up of two members namely Katie White and Jules de Martino who list playing digital piano, bass guitar and the cowbell (!) amongst their dexterous skills. Since the bands inception in 2008 the two have been showered with awards, nominations and accolades that have taken them to the top of their musical game and right now The Ting Tings are enjoying even more of a shake-up as their track ''That's Not My Name'' appears as the fizzin' backdrop to Coca Cola's latest energised name game promo.
What with their song's musical outline fashioned undoubtedly on the 80s single of the same new wave ilk 'Hey Mickey', and Cola promoting Bobby on a bottle by way of a streetwise dog; perhaps the name doesn't matter as long as the content does it for you!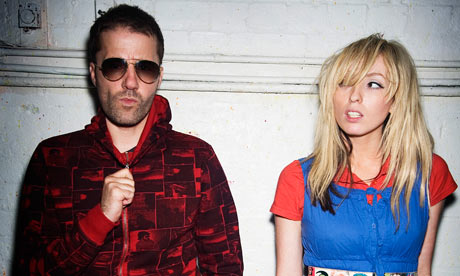 The Ting Tings
Shake It Up
'That's Not My Name' is the first in hand full of tracks produced by The Ting Tings who are self-confessed perfectionists when it comes to detailing and artistic finish. With their artistic fingers in pies from electro-pop, Indie Rock to R'n'B and acoustic folk, the duo are showing their flexibility to reach a wider audience base. Whilst Bobby the egotistical mutt runs a mock around the streets of New York looking for a Coca Cola bottle with his name on it, The Ting Tings indulge his obsession with their back drop sound.
What's In A Name?
Quoting the single as a ''well-shaken can of cola'' that's exactly what it is as The Ting Tings track is introduced with minimalistic drum beats to semi-spoken punk-clad vocals backed by syncopated hand claps that graduate to interwoven stands of digital piano chords and lead guitar:
Chorus                      G-E                                                                                                        G-A       
They call me ''hell'',  They call me ''Stacey'',  They call me ''her'',  They call me ''Jane''
For The Ting Tings their shake up means energy by the bucket full, synergy in spade loads and for Coca Cola … plenty of bottle.