Adam Ant is an English musician of some repute; both for his fancy dress as well as his extrovert nature. He fronted the punk/new wave band 'Adam and the Ants' in the '80s with his signatory artistic bent and belligerent vocal lines that got the band noticed but this ant never marched in a straight line and the constant swing between music career, film and theatre didn't make for a steady course in one direction. As the loaded question 'What do you do'' posed in the 1982 title track 'Goody Two Shoes' states – we take a look at Adam Ant; musician and non-conformist behind the mask.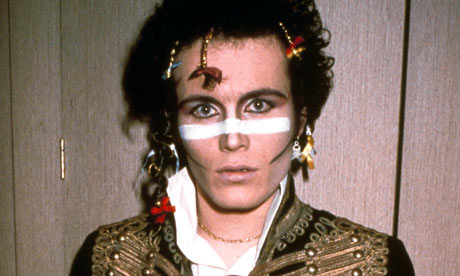 Adam Ant
Prince of Thieves
''Stand and Deliver'' was Adam Ants most successful single as much for its visual appeal and heroic imagery that carved a future niche out for our handsome highwayman. Clad in his 18th century gear complete with muskets, makeup and luck on his side, our charmer escapes from the clutches of the gallows aided by his cronies (band members) only to be seen robbing the next carriage on his highway route.
A lone bugle heralds the presence of Adam Ant as he waits in the trees above for the stagecoach. The frenzied cross beat followed by guitar chords, rearing horses and a camply spoken ''Stand and Deliver'' drives the track forward. The verse material is spoken in a semi-humorous manner and each time makes for the catchy chorus from the glib highwayman ''Stand and deliver, your money or your life''.
The song continues in the same vein throughout with the over-indulgent scenes of the aristocracy and ending with the gallows where our self-indulgent Prince of Thieves once again escapes his fate and lives to fight another day.
Adam Ant
– The Other Side
''Goody Two Shoes'' was quick to develop Adam Ants trademark pose as the video opens yet again with the scene of our artist in his boudoir getting dressed complete with butler and said lifestyle. The lyrics insist he doesn't indulge in life's vices ''You don't drink, don't smoke – what do you do'' as Adam Ant is hastled by journalists and news reporters alike.
The same glam rock beat perpetuates through the track with a catchy motivic pattern constantly whirring around. In this remoulding of Adam Ant and his band during this time, there is a more sophisticated style apparent as brass, woodwind and digital piano feature with punctuated sounds that embed a confident air.
As our goody two shoes is mocked for his virtuous lifestyle on the outside – he knows ''there must be something inside'' as Adam Ant concludes the video with his retirement to his bedroom … with a journalist in tow.                      So now we know what he does…