Ooh, Kate Bush is here again – the girl with the child in her eyes. This time she's no flighty 'twenty something' who floats effortlessly around the stage – but fifth-five years of age. It would seem that age is all in the mind and its dictate hasn't stopped Bush's ardent fans buying highly sought after tickets for her forthcoming summer tour. Kate Bush is known for her eclectic mixed style of conformity and contention; taboo subjects lace much of her repertoire which is in turn is fringed with gothic and bohemian touches. Many of her compositions including 'Wuthering Heights' and 'Babooshka' beheld a prominent, signatory digital piano style that enhanced the Bush unique vocal style with its wide angled, 'lispy' pronunciation has become an endearing part of her trademark. Kate Bush is a retro heroine returning to the stage for a second bite of the musical cherry. Ooh… She's here again.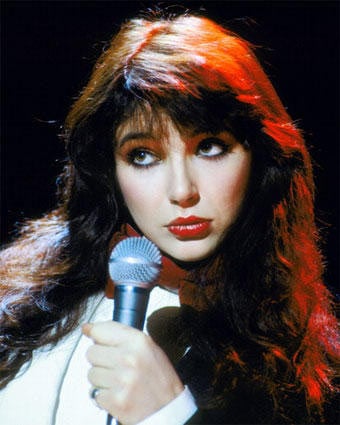 Dizzy Heights Of Success
In the past Kate Bush dipped into a dolly mixture of genres but always with rock as her baseline. No matter how free-spirited the verses were – the chorus would be stamped with an arty rock-ette quality – big or small. 'Wuthering Heights' bore the greatest success for Kate Bush in 1978; based around the tragic novel the art rock single rose to its own dizzy heights with twinkling, high registered digital piano nimble motifs and wind chimes at the forefront as ghostly images surged from Kate Bush in a dramatic outpouring:
A                                F                              E                         C#
''Out on the wiley, wind-y moors, we'd roll and fall I green''
Kate Bush
-ka
Like so much of the Kate Bush repertoire 'Babooshka' has emotive issues at its centre. This storyline tells of a woman who tests her husband's fidelity – to her cost. The double bass seen in the accompanying video represents her husband with his clockwork 'frozen' wife at his side and sustained digital piano chords and rising synth motif that open the theatrics that lead to a provocative chorus:
Dm               C                  Gm                   D               Gm7
''All yours, Babooshka, Babooshka, Babooshka-ya-ya!''
All Show In The Capital
Kate Bush will return to the stage with a bonanza 22-night run in London later in the summer. The name of her show entitled 'Before The Dawn' once again conjures up all those nocturnal and enigmatic qualities that made up the Kate Bush aura back in the 70's. Ooh, she's here again – the girl with the child in her eyes.