Anne Dudley is a household name in the world of music. At this moment you may say ''who?'' but if I was to add the words 'The Full Monty'' you would most certainly nod in acknowledgement. As a female composer, Anne Dudley was originally classically trained as a digital piano player has had to earn her stripes even though her accreditations read like a shopping list. Yet whether it be as a session musician, performance artist or composer or arranger, Anne Dudley has met the challenges of the pop and classical world with equal temerity; rubbing shoulders with all the musical biggies as diverse as legendary singer Tom Jones to the more academic demands of 'Les Miserables' film scores. Anne Dudley is an ambassador for female success in an all-but male dominated industry but unlike the Full Monty and Mr Jones; her exposure is dependent upon leaving her hat on!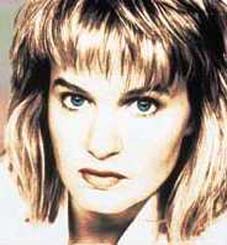 The Full Monty
The comedy-drama set in Sheffield was written in 1997 and is centred round six steel workers who unemployment sends the sextet trying different ploys to raise money. Their hair-brain schemes culminate in a strip-tease turn whose storyline is complete with everyday issues and a lacing of Northern humour. Anne Dudley won an Academy Award for the 'Full Monty' Soundtrack which has all the hallmarks of a satire-comedy.
The Full Dudley
The baritone sax opens the track with its fragmentary grunts and rasps in a low register and layered upon a bed rock of reggae played by a cheeky but equally nimble digital piano. The alto sax takes over in a similar vein in the upper octave in thirds Bb- A A A Bb G
Alongside the sax a melancholy harmonica features a wavering motif reminiscent of 'Last of the Summer Wine' Ab  B Eb-,  Db Gb Eb, EB Ab'- etc
Synth strings, whining guitar and gentile trumpets all add to the comical edge that captures the mood of the film well. Anne Dudley shows her composing skills as multi-dimensional aspects of the film are explored through various instrumental timbres and clever ensemble scoring.
Tongue-In-Cheek Repertoire
The tongue-in-cheek picture includes musical greats from the seventies such as Donna Summer's ''Hot Stuff'', Sister Sledge's ''We Are Family'' and Hot Chocolate's ''You Sexy Thing'' as disco sounds permeate the film. The whirring digital grand piano sound, heady back beat and funky bass line all characterise the music of the era and contributed with measured success to the less that gung ho climate that the film set out to create. The 'Full Monty' was to see Anne Dudley pull off yet another seismic success that went on to be a box office bonanza and was outsold only by Titanic – with souls saved and dignity intact – well almost!