One Direction is definitely going the right way to becoming the new Beatles boom. The Anglo/Irish boy band found itself going home with two Brit Awards last night; Global Success and British Video gong of the Year. This quintet of cute young things namely; Zayn, Niall, Harry, Louis and Liam have pop-rocked their way to the top through the usual route of talent-spotted show winners, effective marketing and celebrity backing. It would seem there's room on the stage for yet another boy band to take a smitten girl's mind off reality. So, if you're a  One Direction fan then get ready to dance all night to the ''Best Song Ever''…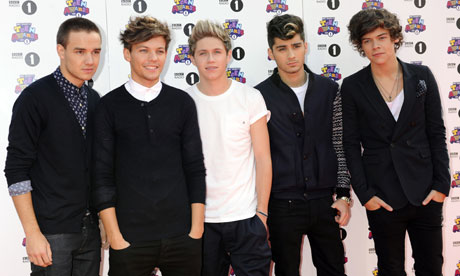 Showing All The Signs
As part of the One Direction tour trailer 'This Is Us' campaign the pop single pointed to success on its own merit. The track has almost as many writers to its namesake as it does members of the band but no matter as One Direction takes hold and makes it their own – complete with skit video that embeds the bands fun quality and sucks up to their fan base with a frivolous take on life e.g. if you don't like it – smash it up!
One Direction
– Best Song Ever?
Despite having very few instrumental skills between them e.g. guitar x 1 member – One Direction seems to be able to hold a tune. The song calls for the usual three-chord trick that can be played equally on acoustic guitar and/or digital piano and underscores some bizarre lyrics re Georgia Rose and her daddy being a dentist. Meanwhile the chorus holds its own charms:
                D                                 A    E
''Cause we danced all night to the best song ever,
                            D                            A             E                                               D       A    E
I think it went oh, oh, oh,      I think it went yeah, yeah, yeah,      I think it goes''
The highlight of the song is Zayn's falsetto screams at the end – an eclectic kickback from those Beatles come to haunt us.
Different Styles – Same Direction
Though it arguably isn't the best song ever – (as I can think of a repertoire of classics that has more musicality in its little finger) – try telling that to those teenie- boppers who only eat, sleep and breathe in one direction. It's a sign of the times.